Lahaul and Spiti—destinations I had only read about
I was ten years old when I read about the Lahaul and Spiti valleys in school. I just knew where they were on a map, and being from central India, my visits to the northern regions of our country had been limited. After school ended, I got a chance to join a college in the state of Punjab, and the first week that I was there, the college took us on a small excursion to Shimla. This was when I realized that the Himalayas were less than a couple of hours from my college, and with that realization, I began to wonder if there was a way to visit those seemingly remote places during my vacations.
My first vacation sans family
I planned my first trip during my Diwali break in 2019. I planned to visit Shimla, go onwards to Sarahan, Sangla and Chitkul—and still have time to get back home for Diwali. I boarded a Himachal Roadways bus and completed my trip bus-hopping and enjoying my well-earned travel time with fellow travellers. Although this trip was by far the best one I had ever gone on, there was something in the back of my mind that I always wanted to do.
A chance meeting with bikers in Sangla
I met a dozen or so bikers in Sangla. They were filling fuel on a 15-day trip to Sangla, Lahaul, and Spiti from New Delhi. I asked them a million questions about their journey and finally figured out that the only thing missing in my trip was the element of freedom—the capability to go where I wanted when I wanted without being limited by the arrival and departure timings of a bus.
However, there was a problem. The first one was that although I could ride, I did not own a bike (and did not have the means to buy one on my own without asking my parents for money). The second one was that all the trips I found on sites such as TripAdvisor were prohibitively expensive, making it impossible for a student like me to go on one.
Sowing the seeds of wanderlust
I confided in one of my classmates about my desire to go to Lahaul Spiti on a bike, and the first question he asked me was, "why don't you rent a bike?" I told him that my budget was limited, so he explained that renting a bike was not expensive at all, and he would come along on the trip because he had never been to those areas either.
Renting a bike from Chandigarh to Lahaul and Spiti
Two is company, and ideas from two quickly become a plan. We Googled ways to rent a bike and found that many providers all over the North, even in Shimla and Manali, gave a bike for rent. We concentrated on finding one around our college and chanced upon this provider called Make My Ride near Chandigarh. I called the number on the site and spoke to Jojo—the co-founder, who told me that he started riding to the hills in the late 90s and got his own bike in 2003 after he got his first job. He answered all my questions and invited us to come over and discuss our plans with him.
Meeting the team at Make My Ride motorcycle rentals and tours
I was so happy I met these guys. Jojo and Bikram are like walking bike encyclopedias. They helped us plan our trip, found us places to stay and even helped us understand how to fix things in a bike if something goes wrong. We got so excited talking to them that we immediately put down a deposit for our Royal Enfield Himalayans and extended our trip by another five days!
So, our trip now stretched from Chandigarh to Kinnaur to Sangla and then onwards to Kalpa, Khab, Spiti, Kunzum Pass, Chandratal Lake, Keylong, Udaipur, Trilokinath temple and back via Manali. We were so excited!
Packing – What to carry on your bike trip to Lahaul and Spiti
Everything! A million things come to mind when packing for a trip to Lahaul and Spiti on a bike rented from Chandigarh (or anywhere). Here's what I packed:
Essentials for the motorcycle – Spares and essentials you need for your bike ride to Lahaul and Spiti
Check if your licence and the bike's insurance, registration and pollution check certificate are in order. If the pollution check certificate is more than 3 months old, get a new one made from the nearest petrol pump when you tank up.
A thorough check of the bike, including tyre wear and chain set wear—Extremely important
Spare tube for the front and rear tyre (essential in a Himalayan as both tyres are differently sized)
Spare bulb
Spare clutch and accelerator cables tied with existing cables on the bike (most rental companies do this already, but if they do not, insist that they do)
Chain lube (essential to ensure that your bike's chainset works like a charm. Get a small can for a 15-day trip. You won't need it more than 4-5 times
Small pump (I had a Mi battery-operated pump)
Two pairs of bungee cords (we did not need them)
Large garbage bags to put your clothes in –essential for waterproofing
Essentials for the rider—clothing and gear for your bike trip to Lahaul and Spiti
This depends on your preferences. Consider this a general guide to what you can carry:
Warm Jacket: 1
Thermal inners: 2 pairs
T-shirts: 6
Undergarments: 6 pairs
Jeans: 2 pairs
Sweatshirts: 2 pairs
Two-piece raincoat in case you do not have riding pants and jacket (ask your bike rental provider for riding pants and jacket)
Buff or balaclava—2
Warm cap
Sunglasses
Slippers
Waterproof shoes or riding boots
Trekking shoes if you wish to trek. If you have mid/high ankle trekking shoes, they can double as riding and trekking shoes
Essentials for the ride—toiletries and medication for your ride to Lahaul Spiti
Chapstick for cracked lips
Sunscreen
Moisturizer
Shaving kit if you feel like shaving on the ride
Any medication you take every day
Essential medicines for the ride to Lahaul and Spiti:
Paracetamol/Dolo for fever
Brufin or Combiflam for aches and pains
Rantac/Pantaprazole for acid reflux
Unienzyme for minor stomach upset
Loperamide for diarrhoea
Pudin Hara
Diamox for altitude sickness—CONSULT YOUR DOCTOR BEFORE YOU BUY
Any other medication that you prefer or need
Basic first aid kit for your Spiti bike ride that includes:
Band-aid
Burnol
Antiseptic cream
Antiseptic lotion
Small scissors
Wire gauze
Cotton
Crepe bandage
Pre-ride bike check before you ride to Lahul and Spiti:
Inspecting lights, indicators and stop lamps
Inspecting battery level if needed
Inspecting and tightening all nuts and bolts to see if anything is loose
Inspecting brake pad wear or disc pad wear
Riding the bike for 1 hour or so around the city to check for any issues
The ride: My first trip to Lahaul and Spiti
Day 1: when nothing goes according to plan
Chandigarh to Kalpa via Rampur
We went from Chandigarh to Kandaghat, then took the more picturesque road from Chail to Kufri and onwards to Narkanda, Hatu Peak, Rampur and Kalpa.
We had breakfast at the famous Sharmaji ka Dhaba in Janerghat (close to Chail), took an hour to chill at Hatu peak (Narkanda), and then reached Rampur around 4 PM to find out that the road to Sarahan was closed for the day due to construction. We were crestfallen—as I wanted to visit the temple at Sarahan! A quick call to JoJo and we were soon on our way to Kalpa instead, riding an extra 100km through the famous cantilever road! We were dead tired by the time we reached and checked into our guesthouse in Kalpa.
Day 2: Taking it easy
Kalpa to Nako
We took it easy on day two and decided to halt at Nako, as my co-rider was super tired. We woke up to see the sun lighting up the magnificent Kinner Kailash that gives Kinnaur its name. We had breakfast and moved towards Puh (or Pooh). The landscape in Kinnaur is primarily forested and green and is flanked by tall mountains on both sides. As we moved from Pooh, we saw the landscape transform from primarily green to rocky. We were stopped at the police check post at Jangi, where we gave our credentials to the sentry, made an entry and moved on.
Note: Foreign tourists need an inner line permit to visit the Kinnaur-Spiti region from Shimla. Indian Nationals must present their ID at the checkpost in Jangi. If you are a foreign national, you must get the permit from the DC/SDM office Shimla or Reckong Peo.
The elusive Shipki La
This part of the ride was so magnificent that I cannot describe it. Trees gave way to rocks and sand as we reached an alpine level (11,000ft), and we were accompanied by the mighty Sutlej river—formed by the union of the Spiti river and Pare chu streams and other tributaries it meets on the way. We stopped to have fun at a waterfall and moved onwards to Khab. Khab has a bifurcation on the road from where one road moves to the Spiti Valley and the other goes to Shipki La (formerly known as the Hungarung Pass).
Access to Shipki la is controlled by the army, and the pass is only open to traders from the region who go to the Shipki village in Tibet to trade. Right after crossing the bridge at Khab, which is also the confluence of the Pare Chu river and Spiti rivers, we hit the Kazig—hairpin bends that give us the first views of the amazing higher Himalayas. What a lovely sight! We reached the Nako helipad around 2 PM. It was windy, cold—yet sunny. After a customary photo, we headed to the lake and sat at a café close to it for lunch. We were offered a room by the café owner so we stayed put.
Day 3: Riding in the Spiti valley
We woke up to the sound of the gong from the gompa, and the café owner told us that prayers begin in 5 minutes. We stayed for the prayers, had breakfast, and hurried to our destination for the next two days—Tabo.
Gue – The mummy returns!
We took a detour on the way to visit the Gue village monastery, which houses the 550-year-old seated mummy of Sangha Tenzing—a Tibetan monk. The mummy still has its teeth and hair intact and was brought to its current location from its tomb by ITBP personnel. Take a 10 km detour (one way) close to ITBP's Mata ka Mandir on the way to Tabo.
Tabo – The Tantric monastery
We reached Tabo around 4 PM, just in time to see the evening prayers. It was surreal! We stayed at the PWD rest house and waited for the following day to go see the monastery in all its glory. Everything you've heard about Tabo is untrue. The vistas, the frescoes, the landscapes you've seen in pictures—everything fades once you witness this place for the first time with your own eyes!
Ancient, surreal, incredible. You can use as many adjectives as you can for this amazing tantric monastery and still find room for more. If you're in Spiti and you didn't see Tabo, you've wasted your trip!
Day 4: A chance encounter with the Pin valley
Pin valley was never in my plans. We had decided to go to Dhankar monastery from Tabo and then onwards to Kaza. I met a few German tourists in Tabo who were on their way to Pin, and after a round of questions, we decided to travel together. What's a ride with everything pre-planned, right?
Dhankar and mesmerising views
We went for an early morning visit to Dhankar as the Germans had planned to leave by 9. A 30km ride from Tabo, Dhankar only has a small signboard on the side of the road—leading to a fabulous ancient monastery on the top of a cliff overlooking the confluence of the Pin and Spiti rivers. Take some time to visit this monastery—it's amazing, and the views here are unparalleled by any in the Spiti region. You can go through the monastery and climb all the way to the top. We had breakfast at a small café outside the monastery and went to the main road to wait for the others.
If you have the time, stay at Dhankar and do the hour-long trek to the pristine waters of the lesser-known Dhankar lake.
The Pin valley – a trekkers dream
The Pin valley is part of the Pin Valley National Park, which was considered the de-facto border between Lahaul and Spiti. The Pin valley is a cold desert biosphere reserve and offers breathtaking views of its arid, stark landscape. The Mud village in the Pin Valley is a popular starting point for treks to the Pin-Parbati pass, amongst others. We stayed with a local family and had Quo (Koh) for lunch—a dish made with Churpee (female-yak cheese), potatoes and barley flour. Dinner was the familiar Thentuk (flat noodles, meat and veggies in broth) with some Tingmo (steamed bread). The following day, we had Tsampa (barley porridge) for breakfast with some butter tea and headed to Kaza directly from Mud.
Day 5: Kaza – rest and relax
It took us nearly six hours to get to Kaza from Mud due to the number of photos I took! We had booked the PWD guest house at Kaza for the night. The room was extremely comfy, but the guest house was a bit away from the city. We had reached Kaza by 1PM and spent the day exploring the city. Make My Ride recommended that we eat at Deyzor Hotel and Restaurant in Kaza. The restaurant and the hotel are amazing, and so are the owners.
We spent more than 2 hours there chatting to people and relaxing, then roamed around the town visiting the Sakya monastery and other sights. We had dinner at a Spitian homestay instead of Deyzor as we wanted the whole Spitian experience. We had pea soup, momos, and Thukpa, all of which were lovely!
Day 6: Komik, Hikkim, Kibber, Kye(Key) Monastery—a long day and a memorable meal
We got up early—around 4:30 AM, got ready and pushed off to visit Hikkim and Komik (Komic). An amazing sunrise greeted us on the way to Hikkim. We immediately went to the Hikkim Post Office to send a postcard home. Hikkim has the world's highest post office. The post office was closed, but we met up with Tsedup—the owner of Tsedup café at Hikkim and shared a cup of butter tea with him. He asked us to move to Langza and come back to the post office later.
The Buddha statue at Langza
We went to see the majestic Buddha statue at Langza, which is nearly 8km from Hikkim. The views and the statue of the Buddha are mesmerizing and out of this world. We had to rush back to post our postcard, so we ate a quick breakfast at a roadside joint in Langza and went back to Hikkim.
Postcards and other old-skool things
We bought stamps, posted our cards and were soon on our way to Komik, which is 3km from Hikkim. Komic has a small monastery and is the world's highest village connected by a motorable road. It was already 1 PM, and we had promised Tesdup that we would have lunch with him, which we did. He had made delicious mutton rice and had a snack made of peas ready for us. He advised us to go to Key the same day and join the monks for dinner. I was so excited that I nearly forgot to pay him!
Kibber – The home of the snow leopard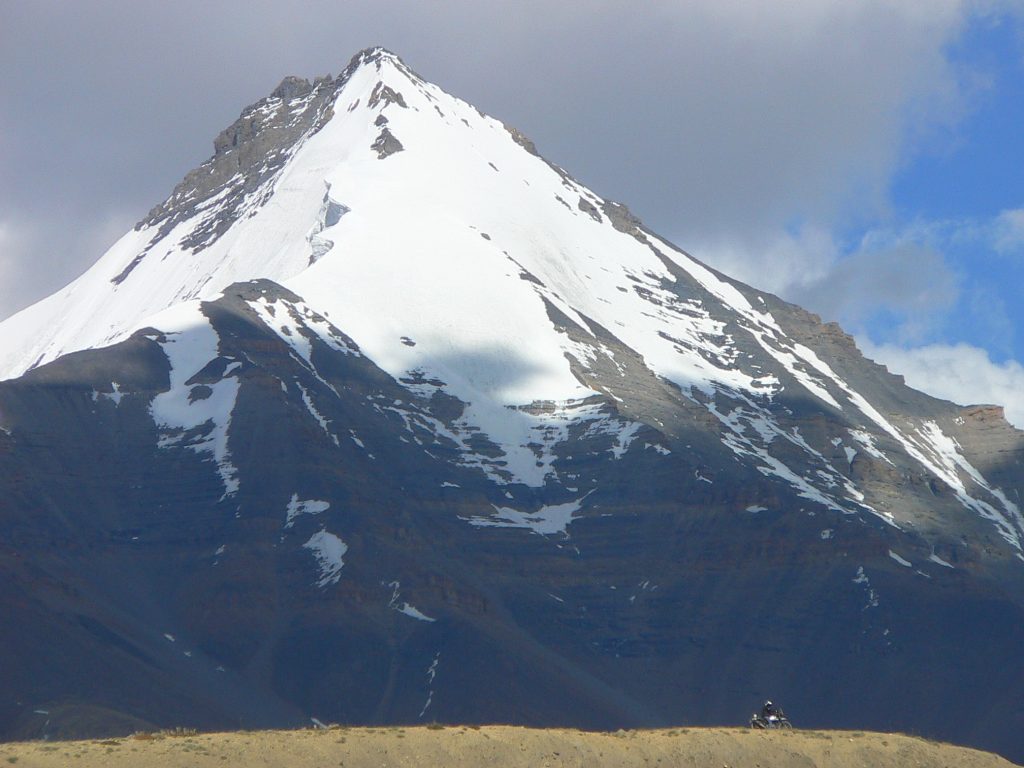 We pushed off to visit the Key monastery the same day instead of waiting it out. At Key, I decided to push ahead to Kibber and do a quick "touch and go" to the haunt of the elusive Snow Leopard in the Kibber Wildlife Sanctuary. We had tea at the Kibber monastery and moved back to Key.
Key Monastery
The key monastery is the largest monastery in Spiti and has the best views and ancient artefacts on display. We walked around all the levels of the monastery and met a monk at the top who spent half an hour chatting with us and invited us for dinner!
Dinner with the monks
We saw the monks chant and then begin their dinner, which was around 6:30 PM. After the monks were done, the kitchen staff served us the same meals the monks—a stew and steamed bread. This was possibly the most memorable meal ever and is an experience I will never forget! We got back to Kaza by 8 PM in the evening, had coffee at Deyzor and went back to our guesthouse to rest our aching behinds.
Day 7: Kaza, Kunzum Pass, the puncture, and the unexpected stay Chandratal
Our initial plan was to ride early from Kaza, see the Chandratal Lake and ride onwards to stay at Tindi in Lahaul. However, we woke up at 4:30 AM to a flat tyre! Although we had all the tools to do the job ourselves, we thought it would be best to have professional hands have a look at the bike.
We went back to the room and took a nap until 7:30. We tried to fill up the tyre, which worked, and then we went to a puncture shop the guesthouse guy recommended. The puncture turned out to be a leaky valve, and less than 10 minutes later, we were back on the road! The puncture guy told us to take the Kaza – Kibber – Chicham – Losar route instead of going from Kaza to Losar directly as it is more scenic. We decided to do just that!
The ascent to Kunzum
The road from Kaza to Kibber is pretty well made, and you can ride easily. It took us about 2 hours to get to Chicham village where we saw the "world's highest suspension bridge". There is a descent to Losar from Chicham from where the ascent to the mighty Kunzum pass begins.
We reached the pass in about 2 hours—taking breaks every now and then for photos. The Royal Enfield Himalayans we rented in Chandigarh from Make My Ride held up beautifully, and we were able to reach Kunzum with ease.
The beauty called Chandratal
The moment we began our descent towards Chandratal, we saw clouds moving toward us. A minute later it was raining, and then it began to snow. We had protective riding gear on, so we just kept riding, taking pics every now and then until we reached Batal—which is the base of the pass. After a quick tea and snack of a shared plate of Rajmah Chawal at Chachu's dhaba, we moved towards Chandratal lake—a 14km off-road track from Batal. The track to Chandratal is littered with water crossings which can be from a few inches to nearly a foot and a half deep, which we had gotten used to by now, so we crossed with ease. The weather cleared at Batal, and it was bright and sunny, so we had loads of fun taking photos and riding to Chandratal.
A magical sunrise, sunset and the milky way
The first view of the Chandratal lake is just mind-blowing. We parked the bike at a parking spot 1.5km from the lake. We loitered around the lakeshore, drinking tea we made with our portable stove and resting. When I asked if we should head back, my friend meekly said—you want to leave this place now? I looked at my watch and saw that it was 3 PM. I gave in, and we took the day off. Chandratal is the perfect spot to laze around, trek around the area and watch the sun go down on the pristine waters of the Moon Lake.
Note that all the campsites are en route Chandratal from Batal. Ensure that you book a place before you ride to the lake.
The lake changes so many colours during the day, from translucent to light green to bluish-green to a darker green until the sun sets. We spent some time photographing the milky way after it was dark as there was hardly any light pollution in the area. We scrambled into our tents by 9 PM as it was horrendously cold.
Day 8: Sunrise at Chandratal, the Lahaul valley and a visit to the Trilokinath temple
Sunrise at Chandratal is amazing. We were up at 4 AM due to a headache caused by the altitude and saw that some people were already out. We said our hellos, took some photos and waited for the sun to come out. The waters of the moon lake transformed into a million colours as soon as the first rays of the sun hit—this experience is just unparalleled.
Offroading in Chhatru
A few minutes later, we realized that it was the perfect time to hit the road. We pushed off after paying our host and eating the breakfast that he had already prepared for us. The road from Batal to the road-head at Gramphu is possibly the best place for a Royal Enfield Himalayan to be. An off-roader's paradise, this place is a must for any riding enthusiast. We just cruised over water crossings and other worries. Our next halt was at Chhatru to take photos of the amazing landscape. This took a good hour or so, and after tea at the famous Chandra Dhaba we pushed on towards Gramphoo and Koksar.
From Koksar, you end up at a fork from where you can either turn left and cross a bridge that connects you to the Atal Tunnel and Manali, or you can ride straight and drive to the amazingly green Lahaul valley through Sissu and Keylong!
Lahaul – the lesser-known twin
Lahaul and Spiti are twin districts that are vastly different from each other. Spiti is dry, dusty and arid, while Lahaul is lush, green and full of forests and gurgling streams. We rode along the Chandrabhaga (also known as Chenab) through Koksar, Sissu, Dalang and took our first halt at Tandi in Lahaul—at the sign of the "last petrol pump before Leh". This stop also required a quick trip to the confluence of the Chandra and Bhaga rivers. We fueled up and took the road to Udaipur (not to be confused with Udaipur in Rajasthan) through small villages in Lahaul, including Wari, Lote, Yangthang, Kamring, and Jholing, for 30kms until we reached the bifurcation that takes us to the ancient Trilokinath temple. This part of the Lahaul valley is remote and sparsely populated—and full of orchards, pea fields and other farmland and orchards.
Visiting the lord of the three worlds
Sacred to both Buddhists and Hindus, the Trilokinath temple has both Buddhist prayer wheels and Shivlings. The original temple columns are from the 9th century. However, the original temple was supposedly built in the first century as a Shiva temple, which then transformed into a Buddhist Vihara in the 9th century, and then into the fusion complex that it is now. Local legends and stories differ according to whom you ask, so make your own interpretations. I loved the place a lot and decided to hang around until the evening, leading us to take lodging at the Laharje homestay in the village.
Day 9: Visiting Keylong, Jispa, Darcha, and the Guru Ghantal monastery
I had heard a lot about the Guru Ghantal monastery, but we decided to first go to Jispa and Darcha before we reached Guru Ghantal—also known as Gandhola monastery. We left Trilokinath after another visit to the temple around 4:30 AM and hurried towards Darcha—the last low-altitude stop on the Manali-Leh highway. Darcha is the gateway to two amazing destinations: one is the amazing Manali-Leh road through the mighty Baralacha La pass and the other takes you to Zanskar valley through the breathtakingly beautiful Shinku-la pass. Darcha is a popular stopover point for travellers because there is a police post where tourists are required to make an entry just before the dhabas.
Jispa and Darcha – a holidayers favourite
It took us 4 hours to get to Darcha through Keylong and Jispa. Most of these areas have become highly populated due to the opening of the Atal Tunnel and the Shinku la pass, which connects Zanskar to Manali. We had a snack at Darcha, spent some time idling around on the bridge and pushed back towards Guru Ghantal monastery. If you have some extra time, spend a day at the campsites around Jispa. You'll love the tranquillity of the place! Jispa Journeys is a highly regarded and recommended campsite by the river and offers amazing views all through! Give it a shot if you're in Jispa and need a place to stay for the night.
Meeting Guru Ghantal or Gandhola
We reached Tupchiling monastery, which is close to the Tandi bridge and were advised to take the keys to Guru Ghantal. It was already 11:30 AM, and the hard trek to Guru Ghantal takes at least 3 hours. The monastery is nearly a thousand years old and has wooden idols of Padmasambhava and Brijeshwari Devi. An inner room has a black stone idol of Kali—leading to the idea that this was a site sacred to both Buddhists and Hindus. We spent half an hour at the top—necessary after the three-hour-long and extremely tiring trek. It took us another 2.5 hours to get back, and we barely managed to make it before it got dark. We stayed the night at Drilbu Retreat, which overlooks the confluence of the Chandrabhaga.
Day 10: Riding to civilization—staying the night in Manali
We decided to sleep in, getting up by 8 AM—which is extremely late by our standards. A quick breakfast later, we were on our way to Manali through the famous Atal Tunnel which is the new gateway to Lahaul Spiti. We rode hard, trying to cover as many kilometres as possible before the rush kicked in. There is always a mini traffic jam outside the Tunnel, but we managed to get across. The Atal Tunnel is amazing to ride through and has a 40-60kmph speed limit. We went across quickly, reaching the rush-filled tourist hub of Manali in less than 3 hours.
Hello, World! Meeting people at Manali
 Reaching Manali abruptly jolted us back to reality—and civilization. Manali is a tourist hotspot and is jam-packed even during the off-season. We stayed at Timberwolves—a hotel in old Manali recommended by Make My Ride. The place was amazing, and we spent the night in comfort—something which was necessary after nine days of staying in makeshift accommodations, small campsites and guest houses in Lahaul Spiti.
We visited the Hadimba temple and the Manu temple that day and ate at the fantastic cafés on the old Manali road. We got a small bottle of wine to celebrate the end of our journey in Manali and drank it at the hotel in celebration.
Day 11: Riding back to Chandigarh from Lahaul Spiti
I am generally a late riser but was up at 4 AM due to the ride schedule of the last 10 days. We tossed our saddlebags for the last time on our bikes and bid farewell to the mountains one last time. The road from Manali to Chandigarh is long, full of traffic and takes nearly 9 hours to complete. The sky was overcast when we left, and we managed to reach Swarghat by noon. It was already hot and we ride on to Kiratpur, experiencing the sweltering heat of the Punjab plains for the first time in days. We reached Make My Ride by 3 PM after having lunch on the highway and handed over the keys of the bikes to the team, ending our amazing, 11-day ride through the most exquisite locations in Northern India.
Parting Thoughts
Most of you might not have 10 or 11 days to ride through Lahaul and Spiti, but this trip can easily be completed in a week. If you plan your stops well, ride very early every day and skip a spot or two, you can be back home in 5-6 days after completing the entire circuit. However, Lahaul and Spiti both need at least 7 days each to ensure you pay a visit to all the well-known places. Now what you must do is give Make My Ride a call, rent a bike from Chandigarh and be on your way to Lahaul and Spiti—now!